Fidesco has been sending volunteers to Haiti for twelve years. Before the catastrophe, four volunteers with missions in education were present there: two singles and a couple with their two children. Very quickly, they reached the French embassy to seek repatriation, except for one of the young volunteers who was missing. She lay for 17 hours under the rubble of a school before she could be rescued and later repatriated. By the end of January, Fidesco International Executive Director, as well as the Fidesco country coordinator for Haiti, with his wife and a priest (former Fidesco volunteer in the Dominican Republic) were already setting foot in Port-au-Prince. They brought with them materials to establish a camp, tents and rice (the basic necessities to survive) and they started listening to people. "They felt a huge need to talk about it, to tell what they had been going through", explains the Fidesco crew. We'd like to explain to you how Fidesco got involved in Haiti's reconstruction since that day.

Listening to the Haitians
Mid-February, another mission of assessment was carried out with a civil engineer, Denis Leblond, a Fidesco USA volunteer also on a mission in Bucarest, as well as two former volunteers. They continued to organise the relief activities and searched for ways of supplying the camp in a perennial way. They also tried to understand how the Haitians were wanted to rebuild after the catastrophe: "We were there", explains Denis Leblond, "to give our input on what could be planned for the future, what would be meaningful and what development projects could work because not all the projects are successful! But our main concern was to consult the Haitians themselves because it is essential that the projects come from and go through them".

Building schools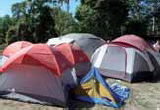 As soon as the catastrophe was communicated, Fidesco called for donations from all directions to support the construction of a school. A concert was even organised with a corporate sponsor in a prestiguous concert hall in Paris, France. $420,000 were raised this way, an amount of money which has really helped Fidesco start planning. During the third assessment mission in April, Fidesco worked on finalising the projects and several of them were validated. Fidesco is going to take part in the reconstruction of the school of the Sisters of Cluny (Fidesco long time partner in Haiti). The reconstruction of about twenty houses for the families is also on the agenda and a project to build a second school is currently being assessed. All the buildings will be constructed to resist cyclones as well as earthquakes... Finally, a project for the construction of a vocational school is taking shape. This school would train young Haitians in the building trade with a view to reconstructing Haiti to antiseismic standards.

Working for the future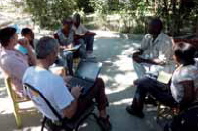 Until mid-July, Fidesco continued to contribute to the life in the camp so that everyone found means of support. The aim was that people who feel they have enough resilience will be encouraged to start businesses again with the grant of a small amount of money to get them up and running. A fourth visit took place mid-May to implement this initiative. More than ever, Fidesco is ready to carry out projects. Denis Leblond gives a good summary of the situation: "The Haitians are extremely good people who help one another. We really want to work with them and for them. What is at stake is doing things in a sensible and perennial way, so that the country can grow. So, all the good ideas and the good willing people are welcome!" Of course any friendly help and support counts. "It is essential that the projects come from and go through the Haitians."

Six new Fidesco volunteers in Haiti
Fidesco's initiative rebuilding the school of the Sisters of Cluny already started. Fidesco sent 6 volunteers and is financially contributing to the wages of the school teachers. A psychologist works with a medical team providing post-traumatic psychological counseling, a second psychologist works with students and teachers. Fidesco volunteers in Haiti also teach sciences, languages, provide financial planning and construction engineering expertise to the reconstruction of the Sisters of Cluny's school buildings.